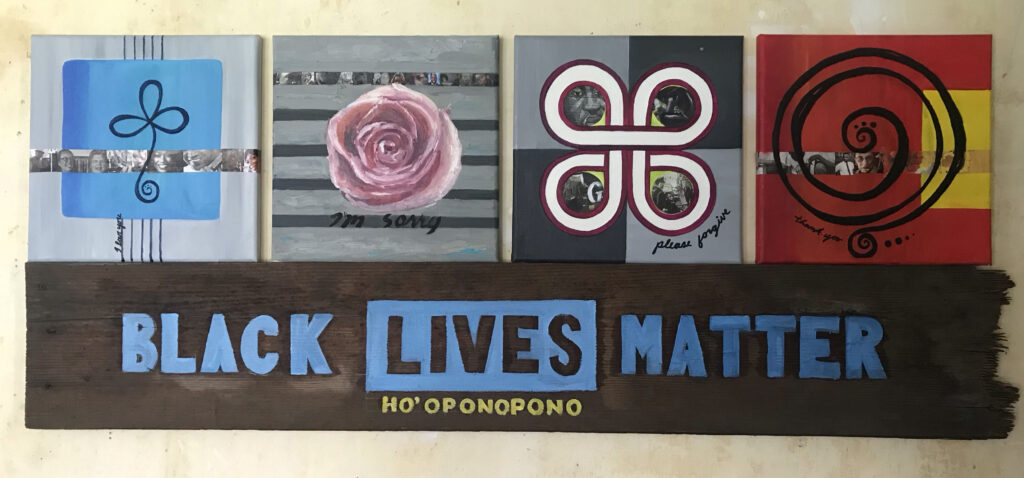 This piece isn't a political statement,
it's the result of my year of understanding Black Lives Matter.
In 2019, myself, my partner and my 13 year old daughter were living on the Creole side of New Orleans, just outside the french quarter, a delightful mixed neighborhood of creole, black, gay, trans, hispanic and more. We protested alongside our Black sisters and brothers, UNITED. But I felt a bit of a fraud. I spent my life saying "I'm from Detroit" but the truth of the matter is… I didn't know the truth. I grew up in the suburbs of Detroit, the people of color in my world assimilated to a white culture, the children of color were adopted into white families. After 20 years in a western mountain town with 1% diversity I didn't know jack or Uncle Tom.
So with reading lists everywhere I dove in. I started with a must read from two of my grown children, HEAVY,  a memoir of an american man, Kiese Laymon, followed by Ta-Nehisi Coates The Water Dancer set during the slave era. I entered the fascinating world of the black liberation movement and read memoirs of two women, Elaine Brown, A Taste of Power and ASSATA, an autobiography of Assata Shakur, an american currently living in political asylum in Cuba, I read the classics by Toni Morrison, I even tried Audre Lorde's poetry. With each New Orlean's house guest, we visited the plantations up river, bringing home books and filling in our pandemic evenings with movies on the civil rights movement, musiciens, artists etc. My daughter was at a local New Orleans school, and the diverse families were welcome in our home and we had fantastic rich conversations. Our neighbors shared porch time with us and we heard delightful and sometimes brutal tales of growing up in the NOLA projects or the deep south rural countryside.
As my parents health declined we came back to Michigan, reading the Urbanization of Detroit I found my ancestral place in this complicated story. My grandparents (3 out of 4) were german immigrants who settled in Detroit. They were urban farmers, who worked in the automobile industry by day and worked small farms weekends. They were Pattern makers, tool and die, trade unionist, Freemasons. They didn't consider themselves racist, but they protected their trade, blacks were not welcome. If "they" were allowed to buy homes they would "ruin the neighborhood." My family was part of White Flight that moved to the northern suburbs and could afford to put their children into private schools. I wasn't taught "Hate" I was taught fear. The fear came from a well deserved fear of retaliation. Perhaps without a thorough understanding of the fear which I believe came from the guilt of our cruel treatment of blacks from the slave era through segregation there was always an expectation of retaliation. I believe this is what accounts for the insane suppression of americans fighting for their rights during the Black Liberation Movement, when Blacks for a second armed themselves and used anger to stand up to their "suppressors." Looking at the history of the U.S. with current information its undeniable we are a racist nation, with a fight or flight instinct to "protect our own."
Anyway, all this created an intense understanding that Black Lives Must Matter to all of us. We must rise together as humans, that we are all part of the human race. Which brings me to Ho'Oponopono, a hawaiian prayer that is all applicable to me, myself, to you to us, to all situations.
I Love You, I'm Sorry, Please forgive me, and Thank you
To help define what I love, what I am sorry for, what needs forgiveness and what I am grateful for I used collage of mostly black and white photos. Here are the Heroes of this movement, musicians, civil rights fighters, judges, those that lost their lives due to racism, those who live them in spite of racism, the children and women of our future generations. Here are the atrocities and here is my ask that on all sides we find forgiveness and start a new.
We now live in a Detroit house that needs some, ok, lots of TLC. It borders an upscale neighborhood of La Salle Gardens, that is being revitalized, some of our neighbors are families that never left Detroit and many are young people jumping at the opportunity to own and they have jobs to be able afford the uninviting city taxes. We overlook Linwood Ave which bustles with gritty street life. We look forward to cycling the neighborhoods this summer, loving the architecture and in search of authentic vs super trendy finds. And since we are still wearing masks I tend to wave to make sure you can tell I am smiling and sending love, Thank you Detroit for the warm welcome.