Janis Monaco Clark lives in Seattle Washington with her husband Bruce and their Boxer dog, Sonny Bone'O. Janis published Tales of a Blacktop Gypsy, Planets & Passages before moving from her hand-built cabin in rural Montana to an apartment in the city.
Get the book in print from amazon.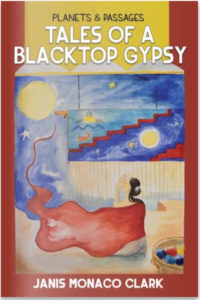 The house on the hill stands empty, her windows dark, save one, the red and golden stained-glass cactus rose, glowing in late-day autumn sun. Twenty-seven years, as the first deep snow of winter fell, we moved into our hand-built house on the hill. There was no glass...
read more