Janis Monaco Clark lives in Seattle Washington with her husband Bruce and their Boxer dog, Sonny Bone'O. Janis published Tales of a Blacktop Gypsy, Planets & Passages before moving from her hand-built cabin in rural Montana to an apartment in the city.
Get the book in print from amazon.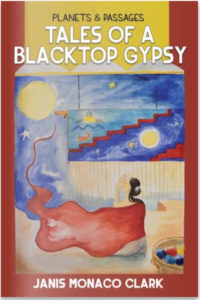 Seattle screams with verbs: Crashing, lurching, heaving, rising, shoving, pulling, dreaming. There is nothing glamorous about our Lake City apartment. Third floor on a busy street, we do not see skyscrapers or the Space Needle. Our view is McDonald's golden arches,...
read more