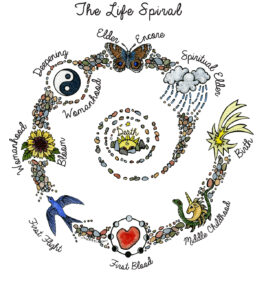 October 11 2020 :: For the Girls 8 to 18
Nine years ago United Nations General Assembly adopted Resolution 66/170 –
October 11 is the International Day of the Girl Child
Girls' have rights and unique challenges all around the world.
Check-in: Women's wisdom holds the power to develop culture.
Reach down, reach up. Circles. Altars. Ceremony. Food. Connection.
Before we begin to heal the Earth, come together. This will heal us.
Outer works in the world begin and sustain from strong inner centers.
When Girls reach and women reach—a connection is inevitable
Women easily remember parts of our girlhood, no matter our age now.
Stories of these imprints of our young days of life – joyful and traumatic
Like campfires of old, stories arrive as easily as lighting a candle.
To celebrate this International Day of the Girl Child
Let's not play small, women who are older: light a candle this day
As a commitment to support girls in ways we wish we were supported.
Begin in ceremony to acknowledge all of our changes, our growth.
Transformations remembered before an altar in a candle ceremony
Provide an immediate benefit beyond togetherness
For girls 7, 8 and 9, they cannot know physical alterations lie ahead –
Mentors, mothers and grandmothers, girls observe us to learn.
Beginning at a Middle Child stage of development
Candles, altars, talking circles, changes move beyond birthdays
Earth-wise acknowledgments include supporting girls' creativity
They are eager to learn about belonging, silence, inner work, ritual.
Give a girl a candle and a little journal, ask her what she thinks.
Listen to her ramblings and guide her back to silence.
An intensity with humor rise when we see others watching us
These exchanges of energy, of being seen, never cease to be holy.
On this international girls' day, I send great love around the world,
Gail Burkett 11 October 2020 oxoxo
We've officially entered the gift economy.
For a free chapter called Middle Child Rites,
send an email to gail@ninepassages.com