In the great long dance of life, 
Beauties grew close while shaping stories –
Rooted Sisters watching our Moon & Sun.
Focusing on Gaillardia this day: 
Native daughter, Blanket Flower
Adapting, she's been Native 10,000 or 20,000 turns.
Feeling love of Sweetgrass, Yarrow & Sage, w
elcoming Artemisia, Bee Balm & Columbine,
Expanding love for these & Flax, Lupine & Sunflower.
As the Spring Light grew longer many dears stepped into the Medicine Wheel
Women of the Well came for medicine needed,
Greeting every spirit, o
ne peaceful Gaillardia rose up, making seeds.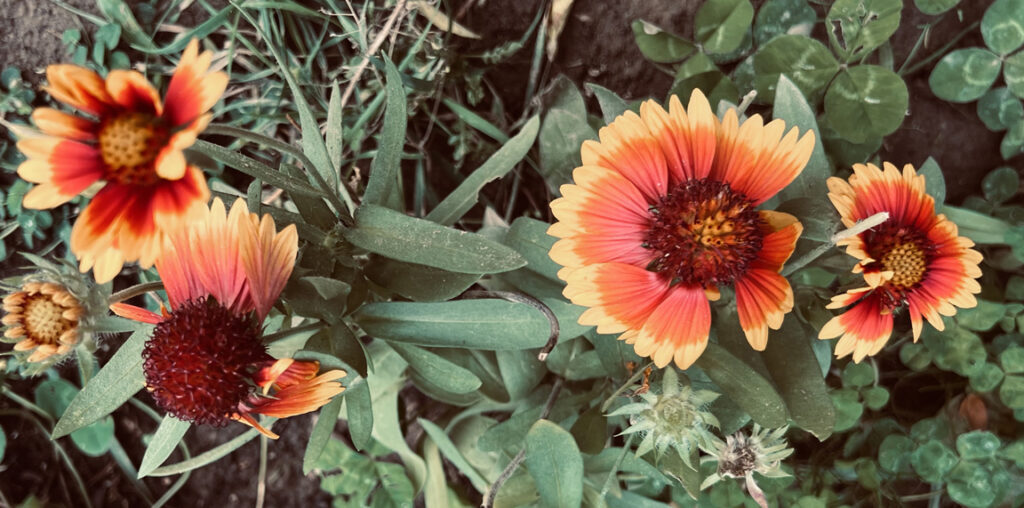 In a little tap of the keys, a download from ethereal world beyond where the great and wise watch and offer intuitions by the zing or spark, like a lightbulb. Catch one if you can. My prayer is inclusive of all that is and ever was, we know enough if we will only remember. Gail oxoxo
In our every deliberation, we must consider the impacts of our decisions
on the next seven generations. —- –The Six Nations Iroquois Confederacy